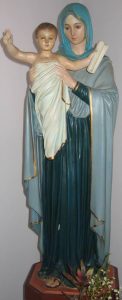 Our mission in the Church springs from one source and is directed toward one goal: the love of Jesus living in the Eucharist, in the Priesthood and in the Liturgy. We share in this common mission in honouring and serving Jesus Master, by bringing him to the people of Oceania, as the Way, Truth and Life through our Eucharistic, Priestly and Liturgical ministry.
The Eucharistic dimension of the Eucharistic-Priestly-Liturgical mission is the centre and unifying force of our lives and mission as Sister Disciples. From the Eucharist we draw light, joy, example and every grace, so as to be in Christ living and active members in the Church.
We participate in the mission of the ordained ministers in the spirit of Mary, most holy. As women associated with priestly zeal, we accompany the vocations to the priesthood and collaborate in their formation through prayer and service. We have a special concern also for those priests living in situations of poverty, sickness and old age.
One of our special ministries in the Archdiocese of Melbourne is the health and pastoral care rendered by our sisters to the retired priests in two hostels: Justin Villa at Balwyn and George Maher House at Clifton Hill.
Besides these two houses for priestly service, we also have Liturgical Apostolate Centres, one in Strathfield and another in Camberwell. A Liturgical Centre is a place where the beauty of the liturgy is promoted through quality liturgical vessels, vestments and furnishings. It has always been the policy of our Liturgical Centres that they are open to all denominations, and so collaborate in the ecumenical movement of the Church